I am a petrosexual, and fall for anything which has an engine. I like my bikes/card to have as much power as they can have (when it comes to bhp, more is never less) but some where in my heart, i have a soft corner for this cute little city runabout.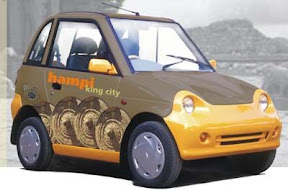 Itz a electrical car, called
Reva
, developed by
Maini motors
, and a cute one, i say. Very manageable inside city, and parking is never a problem. With a decent range of 80 kmph and top speed of 65kmph, it is perfect to run errands inside city. I am sure I will be getting one when i am ready to buy my second car. My one big concern about the car is safety of the passengers in case of a mishap, but most of my fears got alienated when I saw this today morning.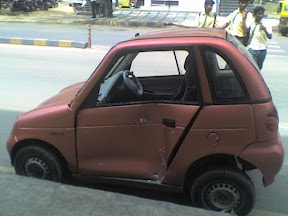 There is a crossing in front of my office, and this car tried to cross the road when one bus was coming down the lane. According to eye witness, it was the mistake from the part of the car driver coz the bus was coming on main road, and it was clearly visible. Some drivers are plain stupid - if any of you have driven a six wheeler at lest once, you will know how tough it is to manage the vehicle. So, when the driver saw this small cute thing suddenly bang on the middle of the road, he tried to avoid the car, but hit the car and then hit the electric post.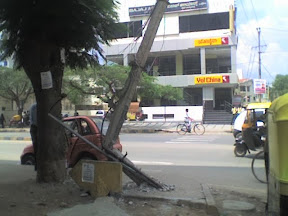 The impact didn't affect the car much, as it is evident from the pictures and both the passengers got escaped largely unhurt. (I heard that one lady got a swelling on her forehead, and the other lady was fine)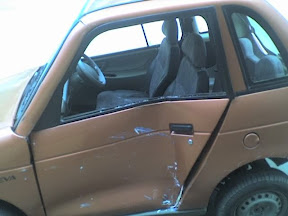 Ps: am not frequent on most of your pages - please excuse me till April 9th. I will be back with a bang after that. Now i read some updates randomly, and really miss you all guys out there.